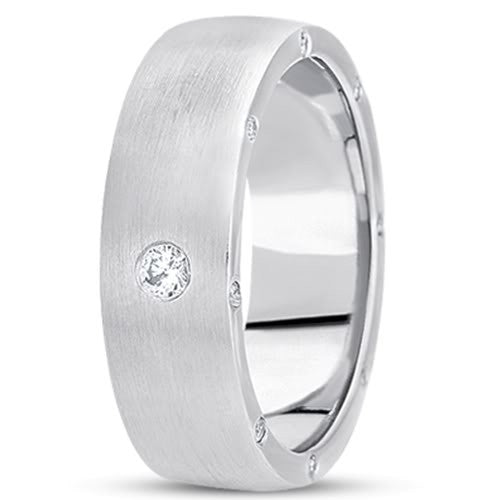 0.34ctw Diamond 14K Gold Wedding Band (7mm) - (F - G Color, SI2 Clarity)
Many in stock
EC2218-14K1
Add to wishlist
Mark the day with a 7mm wedding band that reflects a confident style. This ring features 17 burnish set diamonds totaling 0.34ct. A combination of high polish and satin finish completes this modern look. Made to order. This diamond wedding band comes with free shipping in a complimentary wooden mahogany box and a free replacement value appraisal. Manufactured in the USA.
Diamond Details:
Diamond Setting: Bezel
Cut - Very Good
Color -FG
Clarity - SI2 (Slight Inclusions)
Total Carat Weight - 0.34ct
Returns Policy
Jewelry Affairs offers a 30-day return policy on jewelry. If you are not happy with your jewelry purchase within 30 days of receipt, you may return UNUSED merchandise that has not been engraved or customized for a refund, credit or exchange. Jewelry returned must be in original condition and credit is subject to merchandise being reviewed by our Quality Assurance Specialists. Merchandise that is damaged or altered in any way by a jeweler other than Jewelry Affairs cannot be returned. Some estate jewelry and designer jewelry may be fragile and cannot be returned if damaged. A merchandise credit will be issued if merchandise received as a gift is returned by the recipient. Items that have been personalized cannot be returned. Custom made jewelry are not refundable. With the above-mentioned provisions, a refund will be issued as soon as the item is received.