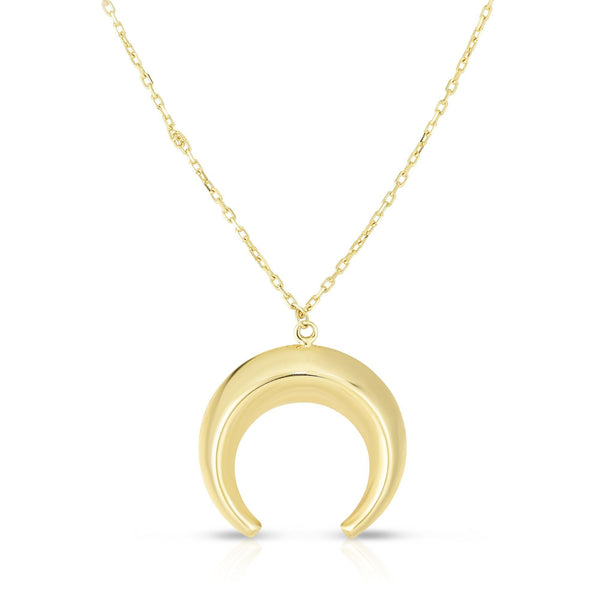 14K Yellow Gold Crescent Moon Pendant Necklace, 18"
Add to wishlist
This 14k yellow gold crescent moon charm chain necklace offers a modern fashion look. It's high polished charm has a diameter of 20mm and the length of the necklace is at 17 inches. The necklace includes a spring clasp to uphold strength and comfort and weights a total of 2.40 grams. A perfect gift for her.


This necklace is made with real 14k yellow gold and is stamped with the appropriate 14k metal stamp
The necklace has a lobster clasp making it secure and easy to wear
The necklace has a high polished finish giving it a shine look
Necklace's length is at 17 Inches
Necklace's weight in grams is at: 2.4 gr
Returns Policy
Jewelry Affairs offers a 30-day return policy on jewelry. If you are not happy with your jewelry purchase within 30 days of receipt, you may return UNUSED merchandise that has not been engraved or customized for a refund, credit or exchange. Jewelry returned must be in original condition and credit is subject to merchandise being reviewed by our Quality Assurance Specialists. Merchandise that is damaged or altered in any way by a jeweler other than Jewelry Affairs cannot be returned. Some estate jewelry and designer jewelry may be fragile and cannot be returned if damaged. A merchandise credit will be issued if merchandise received as a gift is returned by the recipient. Items that have been personalized cannot be returned. Custom made jewelry are not refundable. With the above-mentioned provisions, a refund will be issued as soon as the item is received.